Recognized throughout the world since the seventeenth century, the decorations on the earthenware of Moustiers-Sainte-Marie have evolved. According to the fashion and the new discoveries, they are of a richness and a remarkable precision which plunge us in the past. Here are some examples of decorations that you will encounter during your visit to Moustiers-Sainte-Marie.
To know more about faïence
« Bérain » decor
This type of decoration is mainly in blue monochrome. All around a central character, a network of perfectly symmetrical arabesques is articulated. One can find busts or unreal animals. Jean Bérain published plates to ensure the diffusion of his style. Indeed, the earthenware decorated "à la Bérain" was very numerous. He was appointed draftsman of the King's Chamber in 1711 and was so well known that nothing was done without his approval. Engraved collections of Bérain's decorations circulated from 1710 and Moustiers did not escape this movement.
---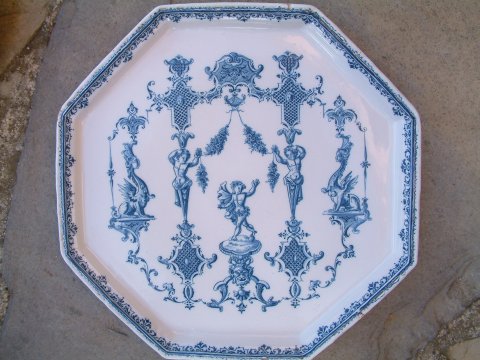 The dishes of hunting or Tempesta decor
At the end of the 17th century and until 1730, the Clérissy family made these large hunting dishes because their central decoration was a hunting scene, most often taken from the engravings of Antonio Tempesta, an Italian painter of the Renaissance whose engraved work circulated throughout Europe.
---
Guirlandes (garlands) decor
The garlands appeared at the time of the return of Joseph Olérys from Spain (cf: Moustiers-Sainte-Marie and the origins of faience). He knew how to integrate the motifs used on wood to the earthenware on the white enamel of which they have almost as much relief. This decoration is characterized by a flower or a scene in the center of the piece and all around, garlands of flowers, drawn with meticulousness. Most of the time, the garlands are in polychrome. Joseph Olérys was responsible for the evolution of the decorations and colors and for the exceptional quality of the enamel.
---
Grotesques
The grotesques are deformed characters that Jospeh Olérys, again, invented in Moustiers. One should not trust their name. Indeed, it comes from a cave, the one in which the Baths of Titus were discovered in Rome during the Renaissance. The paintings of the Baths were very close to the Bérain compositions but they included "grotesque" animals.

​​​​​​​Either in monochrome or in polychrome, these burlesque characters or these often fantastic animals are arranged on terraces, surrounded by floral motifs.
---

Other decorations exist of course. Like the rocaille decoration, with natural flowers, the decorations in small fire or kind Féraud but we are not going to reveal you all in this article. For more information, when you come to Moustiers-Sainte-Marie, do not hesitate to visit the Museum of earthenware or the earthenware workshops. 
---
Source: Moustiers-Sainte-Marie, Le Temps Retrouvé aux éditions Equinoxe