Throughout this long hiking trail, you will encounter numerous villages such as Moustiers-Sainte-Marie, Sainte-Croix-du-Verdon, Montagnac-Montpezat, Baudinard-sur-Verdon, Bauduen, Les Salles-sur-Verdon and Aiguines and the landscapes around it with on common factor : Sainte-Croix's lake.
Itinerant hiking implies a good stamina and effort management. It is for good hikers only, used to long trails in total autonomy. 

► To follow this long hiking itinirary, here are 4 options :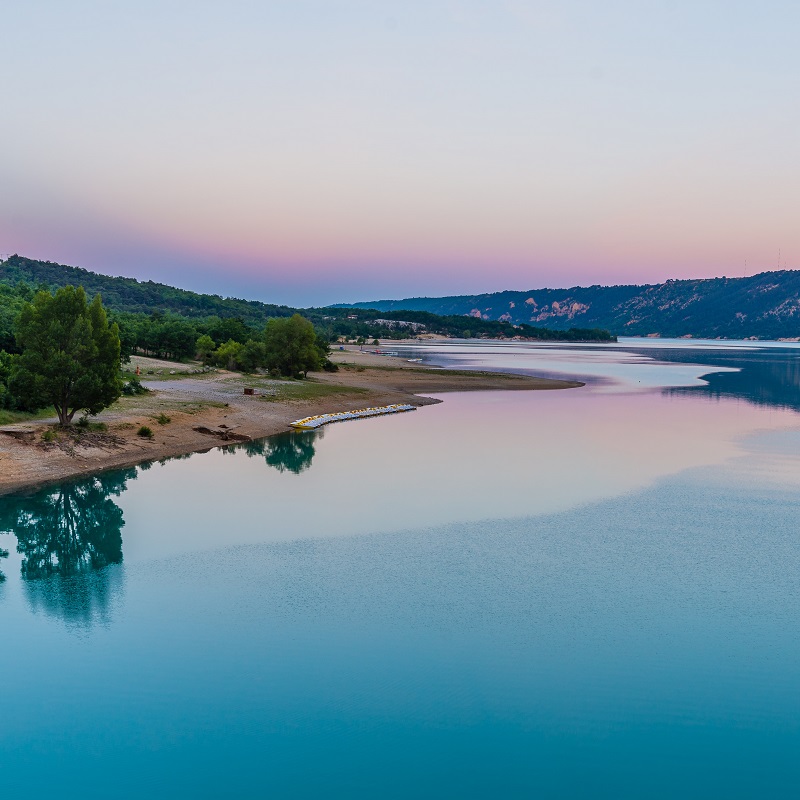 You will encounter 6 villages during your walk around Sainte-Croix's lake. Each village's history is strongly linked to that of the lake and of its dam. Built in the 70's, it completly transformed the lanscape and way of life. Indeed, before it was flooded, the valley was mainly used for agriculture. Today, the lake is one of the main reserve of water for Provence and 'Côte d'Azur' main cities.
 
Going aroud the lake, you will enjoy several view points and landscapes : between hills and plateau, canyon and mountains… With no real difficulty, this trail is one good option for a first itinirant walking trail. During summer, you will be able to enjoy a fresh break and swim !

► To discover the itinirary step by step, download the Verdon Regional Natural Park presentation !
+ contact the tourist offices to find information about accomodations for each stage of your trail.
Crédit photos : ©AD04-Philippe Murtas [main picture] et ©AD04-Teddy Verneuil [photo on the top] 
---
To know more :
Download the GPX trace to ad dit to your sports watch or your GPS device.
If you do not own one of these device, you can find help on Chemins des Parcs app (an IGN map covers the all Verdon Parc area !) and Rando Alpes de Haute-Provence app. You can also buy an IGN Map at our Tourist office or online.
« A wrong or damaged signspoting, a pollution problem, a need to secure a site, a conflict with a land owner… » You can report everything in Suricate (website and mobile application) !
---